The New Zealand Llama Association
The most important thing the NZLA offers is a place you can meet people with a shared interest – llamas! A place where you can share information, get help or advice, and  where we support each other to promote the well-being llamas.
What we do
To educate owners and interested members of the public in the needs, care and welfare of llamas.
To promote llamas and their uses as working and companion animals, and pets.
To facilitate and encourage fun activities with llamas.
To liaise with government and other authorities on behalf of members on matters pertaining to llama ownership, care and use.
To provide a communication forum for the sharing of news, ideas and knowledge relevant to llama ownership, care and use.
To negotiate, set up and operate agencies, or other arrangements with other Camelid organisations where applicable to achieve the objectives of the association.
To encourage compliance with a code of conduct for llama ownership
To provide a registry for the collection of information of all New Zealand llamas and for the registration of llamas.
Find out more about Membership and Join the NZLA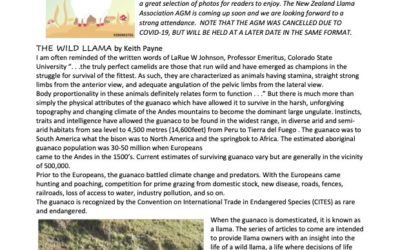 In this Autumn issue we have an excellent article by Keith Payne who has written very informatively about llamas in the wild. Judy has also collected a great selection of photos for readers to enjoy. The New Zealand Llama Association AGM is coming up soon and we are looking forward to a strong attendance. NOTE THAT THE AGM WAS CANCELLED DUE TO COVID-19, BUT WILL BE HELD AT A LATER DATE IN THE SAME FORMAT.
read more