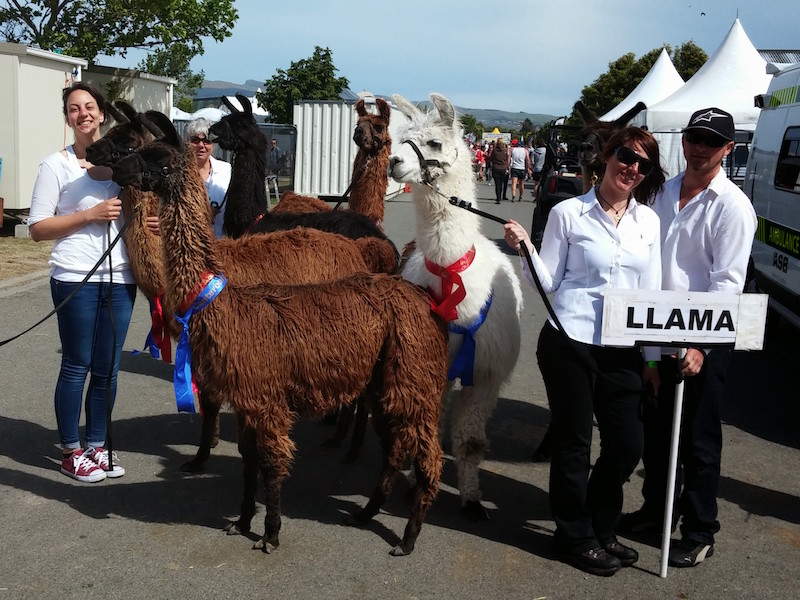 The countdown has started!
Show dates are 9 – 11th November this year. On the 9th of November the NZLA will be organising a special day to showcase llamas and llama products.  Judging has been scheduled as follows:10th November – fleece, craft, conformation, progeny, junior handler,  11th November – performance (public relations, obstacles, packing)
This is a change from previous years, so please note.
The purpose of this change is to allow you to arrive the morning of, or the evening prior to your classes, hopefully this will make attendance easier for you and less stressful for your llamas. You will also note from viewing the Schedule of Classes on the A & P Association web site that TB testing for llamas is no longer a requirement. In the event you keep your llamas in a movement control region, we do recommend annual TB testing as part of your own herd management plan, however this is not a legal requirement, not an NZLA requirement, nor is it any longer a requirement for the Christchurch A & P Show.
For those who have not entered the Christchurch Show before, or for those who have been absent for a spell we will discuss the structure of the different classes to assist you in preparing for the competition. In this communication we will address FLEECE and CRAFT.
The judge this year for these classes is Janette Buckingham. Janette is from the Catlins where she and her family run a large sheep and beef farm. Janette has had llamas and guanaco since the early 90's and has been actively working with sheep and llama fleece for many many years.
Walking Fleece Section
This show recognises 3 varieties of llama fleece – suri, single coat, and double coat. Male and female are shown together however each variety is separated into 2 age groups ie: under and over 24 months. There are accordingly 6 classes to be judged.
The winners of each class will then be brought back in, and Janette will select a CHAMPION and a RESERVE CHAMPION WALKING FLEECE.
Before the judging can commence, Janette will visit each of the Suri and Single Coat entrants to determine if they are correctly entered.
A suri fleece must hang in locks from skin to the end, there can be a variety of twists, but they must be evident in the llama's blanket, shoulder and hip.
A single coat must have one uniform fleece coverage, without a separate guard hair overlay.
The judge's determination in this regard is ALWAYS final, and the judge will reposition the animal in a more appropriate class if necessary.
WALKING FLEECE is possibly the most difficult class for a judge as a decision needs to be made with perhaps only a few minutes available for each animal.
As a general guide, the most important elements of WALKING FLEECE are:
fineness – always the most important consideration
density – the denser the better, and is it consistent at the shoulder and hip as well as blanket?
length – the ideal length for spinners as well as commercial machinery is 2 – 4 inches (5-10cm)
clean – the less vegetable matter the better!
For suri fleece, lustre is a very important consideration as it is a unique feature of this type of fleece.
For double coat llamas, Janette will assess the quantity of guard hair coverage as this can vary considerably amongst llamas. The less the better!
For all three types, the judge will retain a subjective determination in regard to what is called the 'feel' of a fleece. Sometimes referred to as 'hand', the judge will grasp a handful and release it, making a subjective determination based on her years of experience handling fleeces.
Please note that your llama is to be presented for the class in a 'natural' condition, no products are to have been added to the fleece.
Please also be aware that the conformation of your llama will not be considered in the placings, the only consideration will be your llama's fleece.
These classes represent an excellent opportunity to learn more about the fleece of your llama and you will also have the occasion to talk with Janette about llama fleece crafts.
Craft Section
There are two classes, one for Junior Craft (under 16) as well as an Adult Craft. This section will also be judged by Janette.
All entries must either be made using llama fleece (suri, single or double coat) or depict a llama in pottery, mosaic, sculpture, carving, etc. If you are unsure if your craft work will fit these broad parameters, please give me a call and I can find an answer for you.
This Year's Show
The show will be a grand event. There is a strong contingent venturing down from the North Island this year and we also expect a number of new faces from the Canterbury area. The A & P Association is working with us to expand and improve our compound and we will have a new larger judging area as well as a private holding area..
In a couple of weeks you will receive from me another update as well as details on the Conformation, Progeny and Junior Handler Classes.
But in the meantime, please do not hesitate to contact me at 03 319 8522 or thepaynegang@mac.com.
Details
Show Dates: 9, 10 and 11 November 2016.
Schedule:
9th November –  a special day to showcase llamas and llama products
10th November – fleece, craft, conformation, progeny, junior handler
11th November – performance (public relations, obstacles, packing)
Convenor: Keith Payne