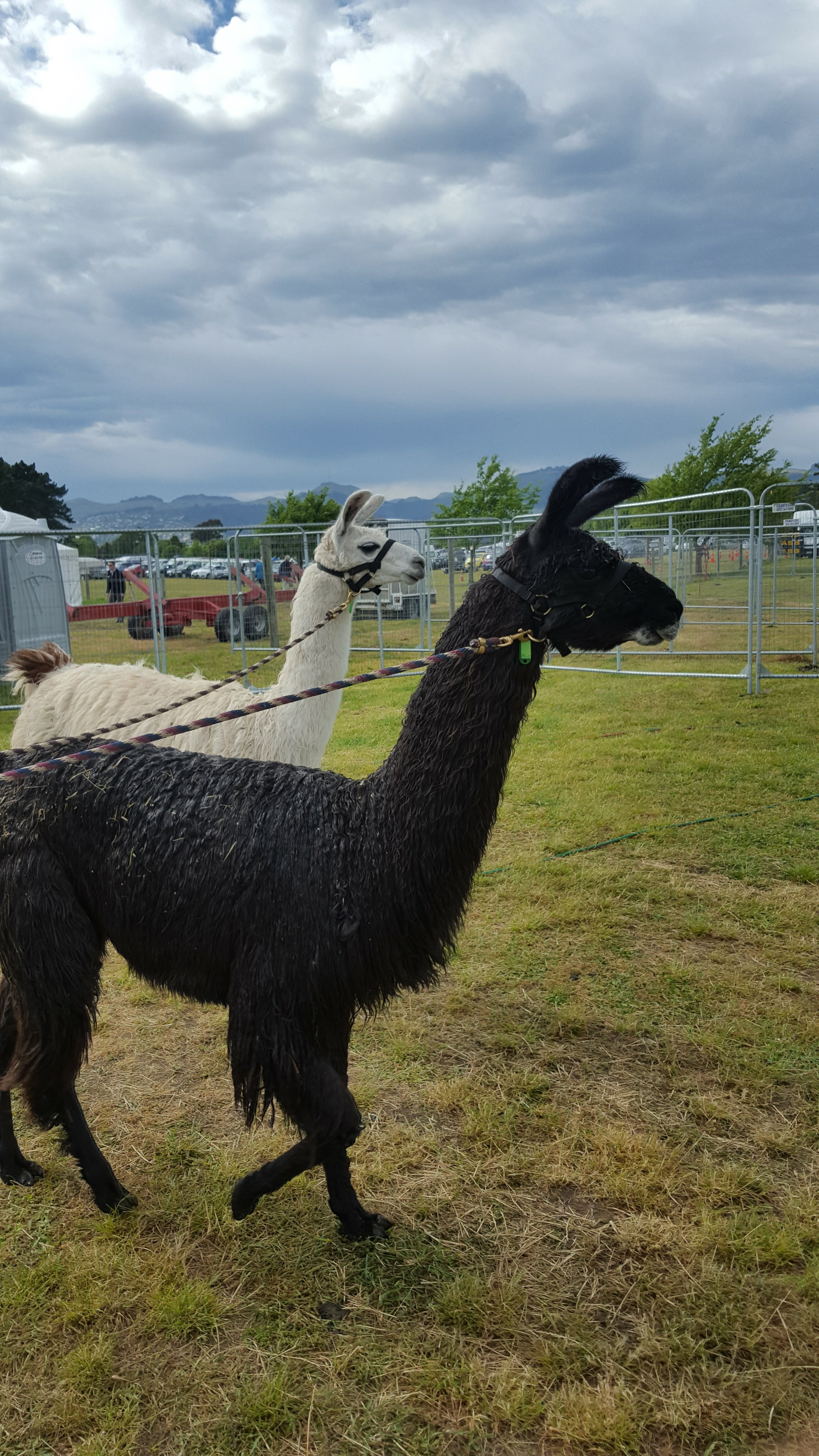 Convenors Report
Several key changes to the llama compound as well as attendance rules were important elements of this year's Christchurch show. The new larger judging area was an important improvement, especially as the old judging area had been changed into an adjacent holding area which permitted the classes to smoothly flow one into another. Entering the holding area from the compound itself through a new gate also facilitated llama movement.
Inside the compound, deer pens had been introduced for the safeguard of intact males and were available to exhibitors who wishes to employ them. This certainly did contribute to a more relaxed show for a number of llama owners.
For the first time, llama owners could select which days their llamas would attend the Show. All exhibitors took advantage of this option. Another feature was that llamas did not require to be TB tested prior to attending.
Manuel de Patagonia was selected as Supreme Champion and went forward for Best of Show honours, being called forward in a shortlist of 5 and receiving complimentary comments from the MC.
Next year will enable us to build on this year's success. We are asking for a volunteer to become Convenor for the 2017 Show, our thoughts are that a small team to share the effort has advantages over an individual.
Keith Payne, Convenor 2016
LLAMA SECTION 2016 Canterbury Show Results
AW 8849 Supreme Champion Conformation Keith Payne Manuel
AW 8881 Best Overall All Round Llama Judy Webby Champenoise Francesca
AW 8864 Champion Walking Fleece Judy Webby Champenoise Farah
AW 8865 Reserve Champion Walking Fleece Jacky Middleton Pippi Longstocking
AW 8814 Champion Female Keith Payne Sophie
AW 8815 Reserve Robyn Robinson LL Hillary
AW 8830 Champion Male Keith Payne Manuel
AW 8831 Reserve Keith Payne Archie
AW 8837 Champion Gelded Llama Tony Pearce Joey
AW 8838 Reserve Champion Gelded Llama Tony Pearce Josh
AW8845 Champion Dam Progeny Keith Payne Manuella
AW 8847 Champion Sire Progeny Keith Payne Ricardo
AW 8868 Champion PR Stuart & Elizabeth Yuill Proctor Alpha Fields Greystone
AW 8869 Reserve Champion Judy Webby Champenoise Francesca
AW 8872 Champion Obstacles Tony Pearce Joey
AW 8873 Reserve Champion Obstacles Tony Pearce Inca
AW 8878 Champion Packing Stuart & Elizabeth Yuill Proctor Kirsonara Theo
AW 8879 Reserve Champion Packing Tony Pearce Inca
AW 8880 Supreme Champion Performance Llama Stuart Yuill Proctor Kirsonara Theo
AW 8852 Champion Craft Sara Crane
Suri
8798 Senior Suri Female over 3 years
1st Place Robyn Robinson Llama Lookout Morning Glory
2nd Place Robyn Robinson Llama Lookout Karousel
3rd Place Robyn Robinson Llama Lookout Paulette
8802 Junior Suri Male less than 16 months
2nd Place Jacky Middleton Avalon Blizzard
3rd Place Sara Crane Fernhill Medoc
4th Place Robyn Robinson Llama Lookout Wylie
Single/Double
8809 Junior Female Llama less than 16 months old
1st Place Robyn Robinson Llama Lookout Hillary
2nd Place Judy Webby Champenoise Francesca
8810 Intermediate Female Llama over 16 months and less than 3 years
1st Place Sara Crane Fernhill Lilly
2nd Place Keith Payne Dolores
3rd Place Keith Payne Sophia
8811 Senior Female over 3 years
1st Place Keith Payne Sophie
2nd Place Sara Crane Fernhill Echo
3rd Place Sara Crane Fernhill Muse
8824 Junior Male under 16 months
1st Place Jacky Middleton Avalon Stephano
2nd Place Judy Webby Champenoise Fernando
3rd Place Keith Payne Harry
8827 Intermediate Male over 16 months and less than 3 years
8827 Senior Male over 36 months
1st Place Keith Payne Manuel
2nd Place Keith Payne Archie
3rd Place Judy Webby Champenoise Estefan
Gelding
8835 Junior Gelded Llama
8834 Senior Gelded Llama over 3 years
8835 Senior Gelded Llama over 7 years
1st Place Tony Pearce Joey
2nd Place Tony Pearce Josh
3rd Place Keith Payne Chico
4th Place Tony Pearce Bandit
Progeny
8842 Dam Progeny
1st Place Keith Payne Manuella
2nd Place Judy Webby Kainga Conchita
8846 Sire Progeny.
1st Place Keith Payne Ricardo
2nd Place Judy Webby Phoenix Montezuma
3rd Place Keith Payne Amigo
Craft
8850 Junior Craft (under 16 years)
1st Place Judy Webby Tallulah O'Donnell
2nd Place Judy Webby Sierra O'Donnell
8851 Adult Craft
1st Place Sara Crane Craft Entry
2nd Place Jacky Middleton Jacky Middleton
Walking Fleece
8858 Suri Fleece less than 24 months.
1st Place Jacky Middleton Avalon Knightengale
2nd Place Robyn Robinson Llama Lookout Trump
3rd Place Jacky Middleton Avalon Blizzard
8859 Suri Fleece over 24 months
1st Place Robyn Robinson Llama Lookout Karousel
2nd Place Robyn Robinson Llama Lookout Paulette
3rd Place Robyn Robinson Llama Lookout Morning Glory
8860 Single Coat less than 24 months.
1st Place Judy Webby Champenoise Farah
2nd Place Robyn Robinson Llama Lookout Hillary
3rd Place Sara Crane Fernhill Epernay
8861 Single Coat over 24 months
1st Place Kevin & Lynn Cole Fernhill Noisette
2nd Place Sara Crane Fernhill Muse
3rd Place Sara Crane Fernhill Echo
8862 Double coat less than 24 months
1st Place Judy Webby Champenoise Francesca
2nd Place Jacky Middleton Avalon Stephano
3rd Place Keith Payne Dolores
4th Place Judy Webby Champenoise Fernando
8863 Double Coat over 24 months
1st Place Jacky Middleton Avalon Pippi Longstockings
2nd Place Keith Payne Sophia
3rd Place Keith Payne Chico
4th Place Keith Payne Manuel
8882 Junior Handler under 16 years
1st Place Judy Webby Tallulah O'Donnell
2nd Place Judy Webby Sierra O'Donnell
Performance
8866 PR Novice (first time)
1st Place Judy Webby Champenoise Francesca
2nd Place Judy Webby Champenoise Fernando
3rd Place Kevin & Lynn Cole Fernhill Noisette
4th Place Keith Payne Harry
8867 PR Open
1st Place Stuart & Elizabeth Yuill Proctor Alpha Fields Greystone
2nd Place Keith Payne Sophia
3rd Place Stuart & Elizabeth Yuill Proctor Kirsonara Theo
4th Place Keith Payne Sophie
8870 Obstacles Novice
1st Place Tony Pearce Inca
2nd Place Tony Pearce Bandit
3rd Place Judy Webby Champenoise Francesca
4th Place Keith Payne Harry
8871 Open
1st Place Tony Pearce Joey
2nd Place Keith Payne Sophie
3rd Place Stuart & Elizabeth Yuill Proctor Kirsonara Theo
4th Place Stuart & Elizabeth Yuill Proctor Alpha Fields Greystone
8874 Packing Novice (first time)
1st Place Tony Pearce Inca
2nd Place Judy Webby Champenoise Estefan
3rd Place Kevin & Lynn Cole Fernhill Noisette
8876 Open
1st Place Tony Pearce Josh
2nd Place Keith Payne Chico
3rd Place Stuart & Elizabeth Yuill Proctor Kirsonara Theo
4th Place Keith Payne Manuel