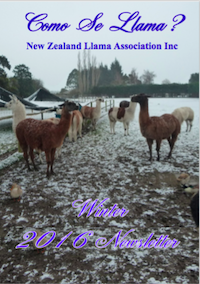 Welcome to the Winter newsletter.
The AGM at Tawa is over and the new committee is all ready to start the year.
The experiment to invite anyone with an interest in Camelid to the workshops was a success, with 18 members of the public paying to attend. It was a great opportunity to show them the difference between llama and alpaca, and many expressed appreciation of the programme. We hope that a few of them have been converted to the joys of llamas.
9 members attended the AGM with 6 of those coming all the way from Canterbury. It was gratifying to see how many people took the trouble to send in their votes for the committee and the motions, as this gaveagoodindicationofthewishesofthe membership.
2017 AGM – south island = 6th May 2017
The next newsletter will be following shortly, and I'm looking for contributions. Please email photos, news, etc. to: admin@llamatrekking.co.nz